FILTHY FREQUENTLY ASKED QUESTIONS
---
WHY ARE WE CALLED FILTHY?
Life is not about dipping your toe in...it's about getting Filthy in everything you do because that's where the joy is.
WHERE ARE FILTHY PRODUCTS MADE?
WHAT MAKES FILTHY DIFFERENT
We don't use a chemical curing process.
Filthy olives are naturally fermented, so they retain the rich, nutty and woody flavor usually associated with olive oil.
Chemical curing strips olives of their natural characteristics, so high amounts of salt and oil have to be added to give the fruit flavor and texture. That's why other olives create that slick on top of your martini.
---
I'M A BAR OR RETAIL STORE, HOW CAN I GET FILTHY?
You may be able to purchase Filthy from your local spirits distributor.
---
Before opening, all Filthy products are shelf stable at room temperature.
Refer to the Best By Date on every product for optimal enjoyment.
TO REFRIGERATE OR NOT TO REFRIGERATE
All Filthy products are shelf stable at room temperature.
After opening, Filthy products must be refrigerated for extended shelf life.
*Filthy Black Cherries are preserved by the slow cooking process, and do not need to be refrigerated once opened. If the product is refrigerated, you will notice a thickening of the syrup and, in extreme temperatures, small sugar crystals will appear, shortening shelf life.
DO MY FILTHY SINGLES NEED TO BE REFRIGERATED?
No need to refrigerate. Although, we recommend chilling your Singles in the fridge before making a cocktail.
DO YOUR PRODUCTS CONTAIN ALCOHOL?
No. The entire product line is non-alcoholic.
Our Filthy Olive Brine contains a very small amount of Dry Vermouth to bridge the flavors - so small that it is still considered a non-alcoholic item.
ARE FILTHY BLACK CHERRIES BRANDIED?
Brandied is a term sometimes used for dark cherries, whether they contain brandy or not. Filthy Black Cherries do not contain alcohol, as alcohol masks the wonderful flavor of the fruit. We'd rather leave the alcohol to you.
---
CAN I STILL BUY 8oz JARS?
Yes, you can still Find Filthy 8oz jars at your local retailers.
WHY INDIVIDUALLY PACKED GARNISHES?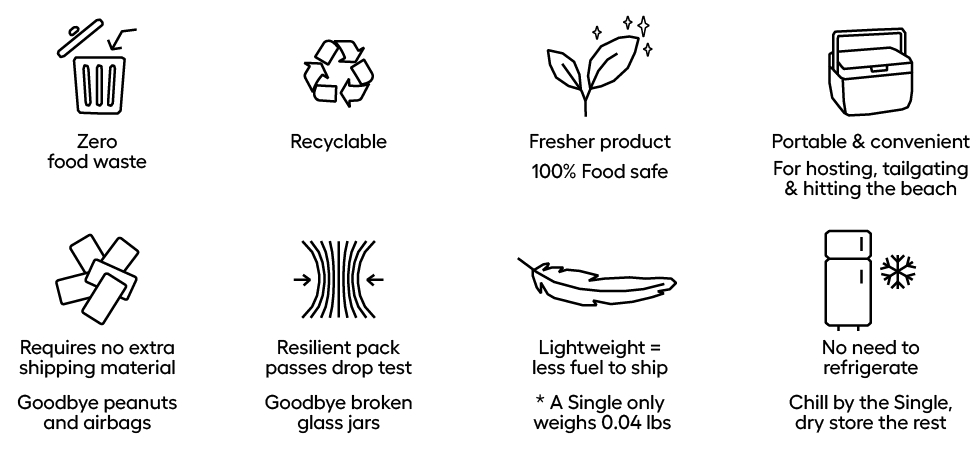 WHY CHANGE FROM SQUEEZE BOTTLES TO POUCHES?
The highly sustainable pouches enable us to greatly reduce our environmental footprint and ensure fresh product.
The pouches are portable and convenient for multiple occasions, like hosting, tailgating and hitting the beach.
---
QUESTIONS NOT ANSWERED?
WE'RE AVAILABLE BY PHONE MON-FRI 9AM-5PM EST AND BY EMAIL ANYTIME.